Welcome! The University of Mississippi is again one of America's Top Military-Friendly Colleges and Universities, is an unlimited Yellow Ribbon school and was designated a Purple Heart Campus by the National Military Order of the Purple Heart in 2015. Veteran and Military Services (VMS) works to provide comprehensive resources to veterans, military, and dependents to aid in their overall success as Ole Miss students. As part of the Center for Student Success and First Year Experience, VMS assists students with certification requirements to receive VA education entitlements, as well as provide advice, guidance, advocacy, and outreach services for our student veteran population. Veteran and Military Services works hard to take care of all members of this unique student population, and welcome them to the Ole Miss Family.
If you are a veteran, active duty, or are currently serving in a guard or reserve unit, providing your DD-214 or proof of current service will get you PRIORITY REGISTRATION, which allows you to get your classes before the general student body. This great addition to the benefits we provide for our military connected students allows us to continue serving those who've served, and we are honored to do it.
Hotty Toddy!
Press Release: Scooting to Success: 77-Year-Old veteran starts class at Ole Miss with a new ride
77-year-old veteran starts class at Ole Miss with a new ride
August 21, 2018 BY ANNA GIBBS
Jim Willis, 76, uses a scooter provided by Volunteers for Veterans to go to class at Ole Miss in Oxford, Miss. on Monday, August 20, 2018. Ole Miss students began classes on Monday.
OXFORD, Miss. – James "Handsome Jim" Willis isn't the typical Ole Miss student, but thanks to a few good Samaritans, the soon-to-be 77-year-old will be scooting to success this semester.
Willis is a Navy veteran and retired Teamster who, after 28 years, is fulfilling his lifelong dream of earning a degree. A social sciences major, Willis said he realized he needed to take classes on campus, but wasn't sure how that would happen due to limited mobility from coronary artery disease.
"I'm handicapped. I can walk, but only about 50 feet before I've got to sit down," Willis said. "I can park in the handicap spots, but I've still got to go to the buildings somehow."
Once Andrew Newby, Assistant Director for Veteran and Military Services, found out Willis enrolled at Ole Miss, Newby said he made it his mission to help Willis. The first day they met, Newby said he noticed Willis had difficulty walking from the handicap parking spot outside Martindale Hall to the Veterans and Military Services office on the third floor.
Newby said he exhausted several options before finding someone to donate a scooter for Willis, but was fortunate to find local organization Volunteers for Veterans Oxford.
"Volunteers for Veterans actually helps veterans in the community, and the community is big – it doesn't just include the veterans home or the VFW or just the student veterans," Newby said. "We have this giant group of veterans, and we're connecting town and gown through partnerships like this. There was a problem, and these guys presented a real solution. It's the best solution we could do right now, and it's a good one."
He called Joe Dickey and Tony Deal, leaders of the organization. Within an hour, they secured a brand-new Jazzy scooter from Jackson-based company Mobility Medical.
Newby said, while Willis is the first 77-year-old student veteran he's worked with, he already knows he'll be an asset on campus. Willis completed 98 credits 28 years ago at Ramapo College in his native New Jersey, so he said he looked forward to getting his feet wet in a classroom setting.
Every time he's on campus, Willis will park outside the Veterans Resource Center in the Yerby Hall basement and pick up the scooter. He'll be able to drive it up ramps, in elevators and even inside classrooms before returning it to the VRC to charge for the next day.
"The veterans are really good guys, and made me feel comfortable and are so excited that, at my age, I'm going back to school," Willis said. "They said, 'That's fantastic. It's a good thing for the younger guys to see.'"
Newby and the University have also matched Willis with a personal academic adviser, Jennifer Phillips. Corey Blount, an access services coordinator with Student Disability Services, as well as the University's sign language interpreter, is also working with Willis.
"(Blount's) wonderful to work with, especially with my population of students, because he'll do anything and everything," Newby said. "… He's going to work with this guy who's completely outside his wheelhouse, because he actually cares."
Success seems to be the name of the game for Willis, who proudly proclaims to be 28 years sober and said he's looking forward to offering a listening ear to classmates who think they have a substance abuse problem.
As a standing junior, Willis acknowledges he's got a long road ahead before he gets his diploma, but said he's excited to scoot across the stage as an 80-year-old graduate.
Press Release: Ole Miss Wish Makes One Special Fan's Day
Colton Bullock's adventure is part of Student Veterans Association charity effort
May 2, 2018 BY SHEA STEWART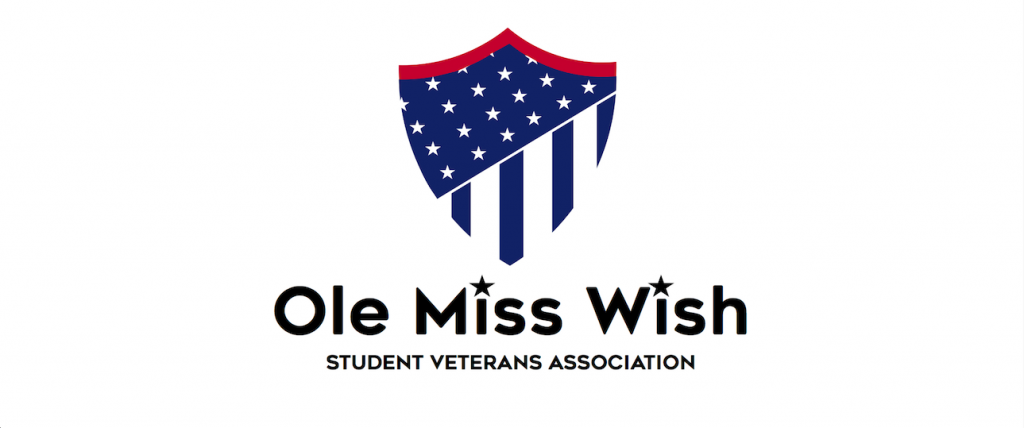 OXFORD, Miss. – On Friday afternoon (April 27), the Walk of Champions through the Grove at the University of Mississippi was reserved for just one champion: 8-year-old Colton Bullock of Brandon.
Colton, who was diagnosed with acute lymphoblastic leukemia at age 3 in September 2013, was made an honorary lifetime member of the Ole Miss Student Veterans Association before that evening's Ole Miss vs. LSU baseball game at Oxford-University Stadium/Swayze Field. To celebrate the honor, the association bestowed upon Colton his own walk through the Grove before a ride to the stadium aboard an Oxford Fire Department fire engine, complete with flashing lights and blaring sirens.
Colton's honor was made possible through My Ole Miss Wish, a philanthropic effort of the Ole Miss Student Veterans Association, a nonprofit that works to solve complex issues surrounding veterans in higher education. My Ole Miss Wish works with military families to give children unforgettable Ole Miss experiences in partnership with Charter Road Hospitality and the Department of Intercollegiate Athletics.
Colton is the son of Ken Bullock, a first lieutenant in the Mississippi Air National Guard where he serves as a flight nurse, and Brittney Bullock.
Supporting military families is important because it is part of the university's Flagship Forward Strategic Plan, which includes building healthy and vibrant communities, said Andrew Newby, a U.S. Marine Corps veteran and UM assistant director of Veteran and Military Services.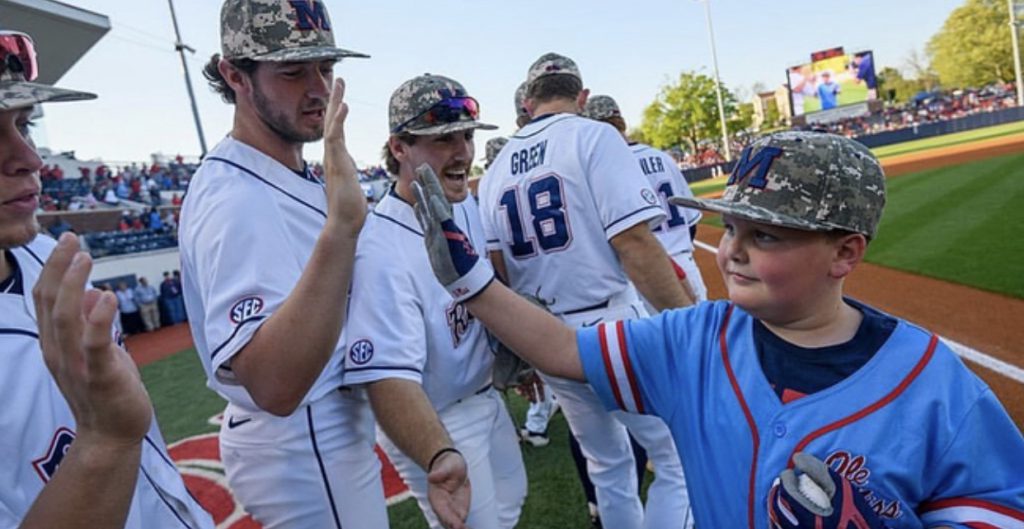 "The SVA is composed of student veterans dedicated to service, and this initiative allows them to serve in new and different ways by making impacts in the lives of our state," Newby said. "Student veterans understand the transient nature of military families, and with this in mind, we want to make sure they understand that they have a place within the Ole Miss family."
Ole Miss baseball coach Mike Bianco offers a few words of encouragement to Colton Bullock. Photo by Thomas Graning/Ole Miss Communications
Colton's day also included a Pass and Review Parade with more than 150 members of the university's ROTC program and Ole Miss family saluting him, a meet-and-greet with the Rebels baseball team and throwing out the first pitch at the game
On Saturday (April 28), Colton was involved in a Nerf gun war that raged across the Grove. The family's hotel stay was provided by Charter Road Hospitality, which operates several hotels.
"My Ole Miss Wish will continue to find military families with an affinity or affiliation to the university, and hopes to work with one family in the fall and one in the spring," Newby said. "As the program gains traction, we hope the community will continue to support our efforts, as they have so far with the new additions to our programming and initiatives on campus.
"The goal in all of this is to make the University of Mississippi nationally relevant for veterans, and we are heading in the right direction."
The Ole Miss Student Veterans Association was introduced to Colton and his story during this year's RebelTHON charity, a dance marathon that raised a record-breaking $265,912.30 for the Blair E. Batson Children's Hospital at the UM Medical Center, exceeding its goal of $225,000. Colton is a patient at Batson.
"The purpose of My Ole Miss Wish is to give Ole Miss experiences to children with illnesses and military families," said Evan Ciocci, a Navy veteran who serves as president of the Ole Miss Student Veterans Association. "It is important to support the family of military as it is the military member.
"It is our way of giving back to the community and continuing to serve; though our service time is up, (it) doesn't mean we cannot continue to serve."
Colton arrived for his wish clad in a powder blue Ole Miss baseball hat and jersey, as the ROTC cadets in uniforms and green-and-blue camouflage lined the Walk of Champions.
Colton's honorary lifetime member statement was read aloud to him, noting his "strength, courage and amazing ability to overcome any obstacles."
"Your genuine love and support of your family, your respect for your parents and your love for Ole Miss make this an easy decision," the statement read. "We look forward to great things from you in the future, and hope you will accept this small token of appreciation as a sign of commitment to you, your family and your future."
With that, the No. 1 question on the Ole Miss campus was asked: "Are you ready?" Then the crowd erupted with Hotty Toddy as Colton made his way down the walk, high-fiving the blue-, red- and green-clad throng awaiting him.
To nominate children and families to participate in My Ole Miss Wish, contact Andrew Newby at andrew@olemiss.edu. Please put "My Ole Miss Wish" in the subject line.
Press Release: Ole Miss Unveils Purple Heart Recognition Program
Purple Heart recipients receive Purple Heart Parking Pass, unveil Purple Heart Parking Spot at heart of campus
April 24, 2018 BY EDWIN B. SMITH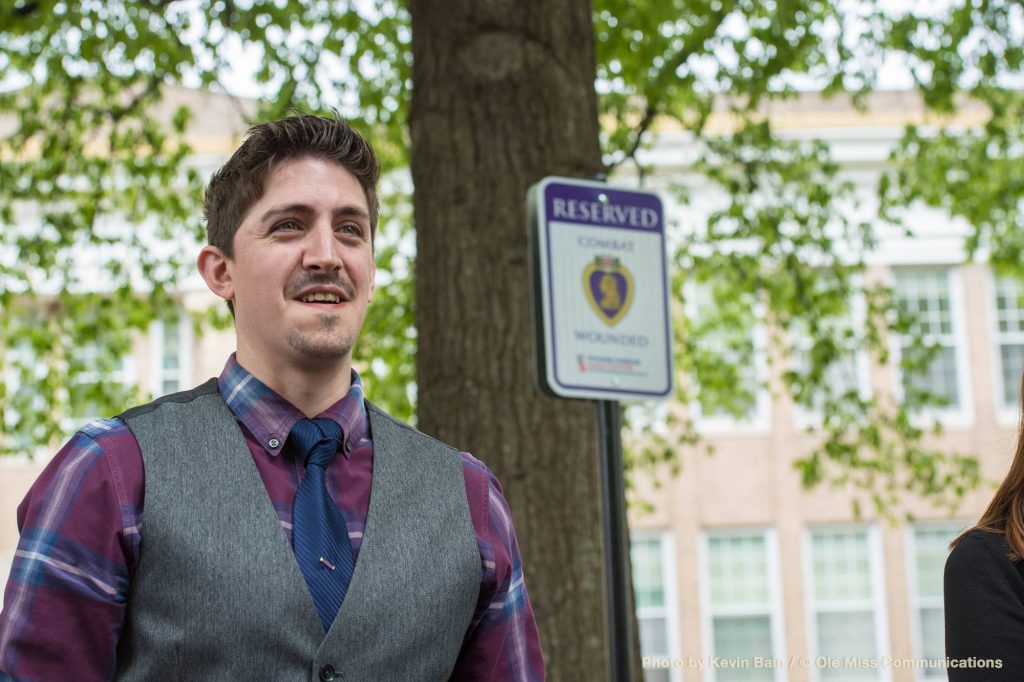 OXFORD, Miss. – Most University of Mississippi students are restricted from parking in certain areas of campus, but that is about to change for Don Zielenski and other Purple Heart recipients at Ole Miss.
The sophomore from south Texas is the first to receive the new Purple Heart Parking Pass, which allows owners to park anywhere on campus. The permit will be unveiled during the university's Purple Heart Recognition Program at 10 a.m. April 24 on the Lyceum steps.
The event will highlight efforts by the Office of Veteran and Military Services to honor the university's veteran community and promote access across UM's official Purple Heart University campus.
"The Purple Heart Recognition Program allows students, faculty, staff and retirees the opportunity to exchange their current parking pass for a Purple Heart Parking Pass," said Andrew Newby, a U.S. Marine Corps veteran and UM assistant director of veteran and military services. "This pass allows the recipient to park in any lot within any space on campus.
"We will have a dedicated space in the Lyceum Circle that is marked with a Purple Heart placard, which will allow visitors with proper proof of Purple Heart credentials to access the space as well."
The April 24 program schedule includes the March of the Colors by the ROTC Color Guard and the official party, the national anthem performed by the University Low Brass Group and opening remarks from Evan Ciocci of Sandwich, Massachusetts, a sophomore information systems management and computer science major and president of the Student Veterans Association.
Newby will discuss VMS programming, present the parking pass and unveil the parking spot on the Circle as the ceremony ends.
Zielenski was a cavalry scout in the U.S. Army. While on deployment as a turret gunner on mounted vehicle patrol, he was struck during a mortar attack. Pushing through his injuries, Zielenski continued to fire on the enemy, which resulted in a Bronze Star Medal with Valor device and a Purple Heart.
Months later on the same deployment, he was on foot patrol when an improvised explosive device triggered a set of explosives placed on top of a building. The building collapsed onto Zielenski, rupturing his spleen, which was removed in transit aboard a helicopter, collapsing a lung and crushing his skull. His injuries left him deaf and blind on the left side of his face, and he was awarded a second Purple Heart.
"Don recovered from his injuries and is now majoring in psychology," Newby said. "He intends to work with veterans experiencing PTS and TBI. We look forward to great things from Don, and are excited to honor him here at this Purple Heart campus."
Zielenski said he is honored to have been chosen as the first student to receive the Purple Heart Parking Pass.
"Andrew has helped our Student Veterans Association progress by leaps and bounds in the short time he has been here," said the veteran, who was stationed at Camp Hovey South Korea in 2008, then deployed to Afghanistan in 2011. "Being part of the Student Veterans helped tremendously upon arriving my freshman year. This organization gave me a great group of people I could associate with."
Three years ago, UM, the city of Oxford and Lafayette County were named a Purple Heart University, a Purple Heart City and a Purple Heart County for their efforts to create a welcoming environment for veterans and Purple Heart recipients. The Purple Heart is a military decoration given only to those wounded or killed in combat.
While UM is one of four SEC institutions to hold the Purple Heart University designation, it is the first university in Mississippi to receive the designation in conjunction with the city and county in which it is located.
"The special things that Ole Miss does specifically for veterans that attend the university are what qualify them to become a Purple Heart University," said Ben Baker, commander of the Oxford Purple Heart Chapter.
The university's Office of Veteran and Military Services was created in April 2013 to provide comprehensive resources for veterans, active members of the military and their dependents, and to assist them in becoming successful as Ole Miss students.
"Being named a Purple Heart University means we support, honor and welcome veterans to this great campus," said Matt Hayes, senior military instructor for Army ROTC and a Purple Heart recipient. "When you have a campus that is supportive of your goals and ambitions, it really gives the veteran the inspiration and drive to succeed."
Ole Miss is home to 1,355 military-connected students, 959 of whom are using GI Education Benefits.
Press Release: Ole Miss Opens First Veterans Resource Center
Student Veterans have a dedicated space on campus
February 22, 2018 BY CHRISTINA STEUBE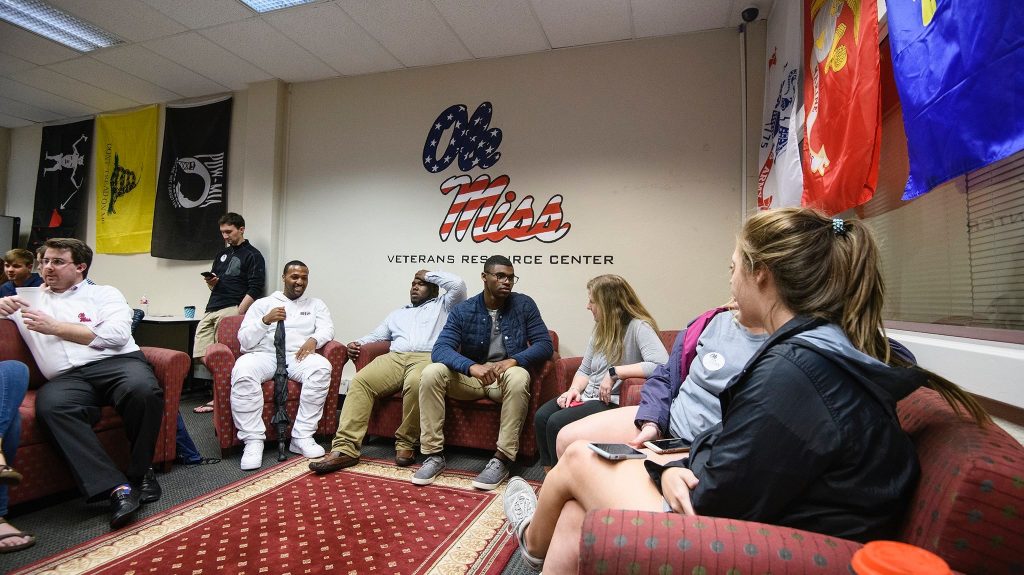 OXFORD, Miss. – The University of Mississippi hosted a grand opening Wednesday (Feb. 21) of its Veterans Resource Center, which will provide student veterans with a variety of benefits to improve their quality of life on campus.
More than 1,300 Ole Miss students are veterans, active military or military dependents. This center serves as a space for them to study, receive support and camaraderie from other veterans and speak with university representatives about veteran issues, such as GI benefits and treatment.
The center is in the basement of the E.F. Yerby Conference Center and will be open to veterans on campus 7 a.m.-8 p.m. Mondays through Fridays.
The student veteran population on campus continues to grow, making this facility a much-needed resource to provide the best possible assistance for these students in their transition from the military to college life, said Evan Ciocci, president of the Student Veterans Association.
"We are extremely grateful the university is working to better our quality of life on campus and from here on out, we want to continue to provide resources, advocacy and support for student veterans," said Ciocci, a sophomore general studies major from Sandwich, Massachusetts, who served in the U.S. Navy.
"SVA and veteran services provided the support to make Mississippi my home, and I love it here."
Andrew Newby, assistant director for veterans and military services at the UM Center for Student Success and First Year Experience, has been working on providing a space for student veterans since his arrival at Ole Miss last year.
"We are so pleased to have this space for our student veterans to utilize and hopefully outgrow," Newby said.
The resource center also will provide student veterans with academic resources and test materials, such as Scantrons and textbooks. The center is seeking donations of any unwanted textbooks to provide more options for its students.
Press Release: Free Law School Available for Eligible Veterans
Initiative covers costs for those qualifying under Post-9/11 GI Bill
October 20, 2017

 BY 
OXFORD, Miss. – Beginning this fall, veterans eligible for the Post-9/11 GI Bill Yellow Ribbon Program who enroll at the University of Mississippi School of Law will have their tuition paid in full.
Using a combination of funds from the Department of Veteran Affairs, the VA's Yellow Ribbon Program and the university, veterans who served at least three years of active duty since Sept. 11, 2001 can go to law school for free.
"We are honored to participate in this initiative to fund law school for our veterans," said Susan Duncan, UM Law Dean. "We owe a great debt to those who have served, and we feel this is the least we can do to honor their commitment to this country."
The opportunity to utilize the Yellow Ribbon Program is available for any student veteran who has been accepted to law school and who meets the criteria for 100 percent of the Post-9/11 GI Bill, said Andrew Newby, the University's Assistant Director of Veteran and Military Services.
For student veterans accepted to Ole Miss who qualify for any other chapter of the GI Bill, they will be eligible for a Non-Resident Tuition Scholarship that will pay the out-of-state portion of their tuition.
"There is no limit to the number of students that can use the Yellow Ribbon Program, and no limit for students using the Non-Resident Tuition Scholarship," Newby said.